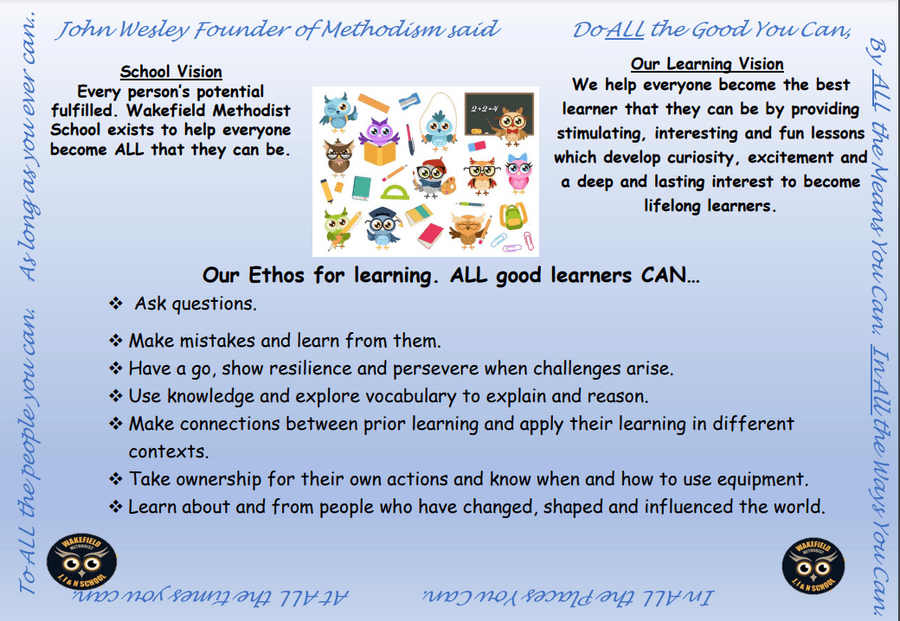 Year 1
Class Teacher: Mrs Trainor
Teaching Assistant: Mrs Browster
SEND Teaching Assistant: Miss Dearden
I am Mrs Trainor the class teacher.
I am delighted to welcome you and your child to Year One at Wakefield Methodist (VC) Junior, Infant and Nursery School. We are very lucky in Year One as we are supported by Mrs Browster.
We care for and nurture the youngest children in Key Stage One to provide a smooth transition from Foundation Stage to working within the National Curriculum. We hope to develop close relationships with parents to ensure that we all make a smooth, secure and joyful start to Key Stage One. We aim to provide a warm and friendly atmosphere where children's enthusiasm for learning is ignited. The classroom is set up with similar provision to the Foundation Stage with areas of continuous provision linked to our learning. The children can engage with both teacher lead and pupil inspired learning.
Mrs Browster has written the following poem.
In our school we believe,
Each child is a rising star.
We show them how they can achieve
and how they can go far.
We give them tools to shape their mind,
To learn to be resilient.
We show them the importance of being kind
and that everyone can be brilliant
They learn respect, both earned and given
and how we are all connected.
How to forgive and be forgiven
and behaviour that is expected
We show them how to open their heart,
through kindness and compassion.
How everyone must play their part,
in any type of fashion
We hope that when the leave our school
and move on to higher learning
That we have provided all the fuel,
to complete their lifelong journey
Please click the links to see the project overviews for Year 1